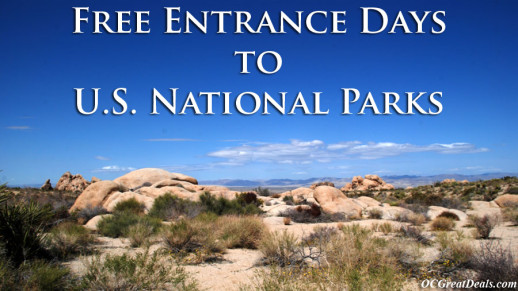 What better way to start the new year than a family trip to a National Park on one of it's free entrance days!
For the past couple of year's I've posted reminders here on OC Great Deals about individual dates, this time I'm starting off the year listing all of them from the start. Don't worry I'll post reminders later throughout the year.
For those that are not aware, each year on certain days the U.S. National Park Service sets aside several dates where they do not charge an entrance fee.
The first date is coming up on Martin Luther King, Jr Day – Monday, January 21 2013.
Free Entrance Days to National Parks
January 21, 2013
Martin Luther King, Jr. Day

April 22-26, 2013
five days during National Park Week

August 25, 2013
National Park Service Birthday

September 28, 2013
National Public Lands Day
November 9-11, 2013
Veterans Day weekend
National Parks in California
– Cabrillo National Monument
– Death Valley National Park
– Joshua Tree National Park
– Lassen Volcanic National Park
– Lava Beds National Monument
– Muir Woods National Monument
– Pinnacles National Monument
– Sequoia National Park
– Whiskeytown National Recreation Area
– Yosemite National Park
If you plan to visit a park out of California, here is a nationwide park list.
The Grand Canyon National Park is also included in the national list. For more information about lodging and tours, including mule-rides, visit the Grand Canyon National Park Lodges website.
Have fun!
Don't forget to follow us on Facebook, Twitter or by Email so you won't miss any OC Deals!