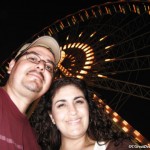 Thank you for visiting OCGreatDeals.com!
We are a husband and wife team who have lived in Southern California all of our lives. We spend every weekend out in the OC attending events, eating out, watching movies, shopping, but like most of you we don't like to pay full price. We scour the Internet and ads to find the best offers for each of our weekend adventures.
From free entrance to county fairs to 2-for-1 deals at local restaurants, our goal is to get the most out of every dollar. Best of all, we like to share these deals with you here on OCGreatDeals.com!
This site is a place for us to list all the best deals in and around the Orange County California area. It's updated weekly with new offers, free events, and coupons. Be sure to visit OCGreatDeals.com before you plan your weekend events!
Have a good local deal/event to share? Then submit the deal!
Have a specific question related to the site?
Ray