Huntington Beach Kite Party 2014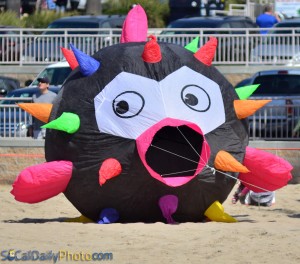 It's that time of the year again, yup, the annual Huntington Beach Kite Party! Each year The Kite Connection hosts this popular and very cool "kite party", where professional kite flyers show off their skills next to the Huntington Beach Pier.
This isn't a kite festival, this is truly a kite party!
My wife and I love going to this free (for spectators) event each year. The dates for this one is:
Saturday and Sunday, March 8 & 9, 2014.
The main area is located on the north side of the HB Pier. So grab your beach chair and head out to watch some really cool kite flying.
Spectators can come and watch the pros either from the sand, pier or the seating area facing the beach on the north side. Plus, they will also be providing kite flying lessons in addition to selling kites.
This is a great family event and the forecast for that weekend calls for clear skies and excellent weather. Nice!
You can find more information about this event at the SurfCityUSA website.
Plus you can see photos from last year's event at OCPix.