Largest Corn Maze in Southern California is in Temecula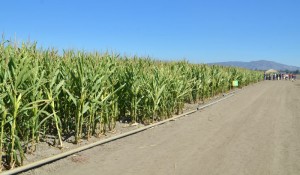 This weekend is the start of the largest corn maze in Southern California, the Big Horse Corn Maze & Harvest Festival in Temecula. Only a short 45 minute drive from north Orange County, the maze proved to be lots of fun and a great deal!
The maze is 11 acres and can take anywhere from 30 minutes to a couple of hours to complete. Last year, my wife and I went prepared with a bottle of water for each of us and hats. If you plan on going I suggest you dress according to the current weather, which the Big Horse Corn Maze easily posts on their site. Here is a large aerial photo of the corn maze.
This was our first time in a corn maze this large, so we opted to take one of the small maps they provide at the start of the maze. For those looking for a longer and more daring experience, just wing it and don't take a map. Don't worry, you wont need to call 911 if you get lost, because they do have special "corn cops" stationed throughout the maze to help if you really need directions.
The corn stalks are well over 7 ft tall, so don't think you'll be able to see beyond the paths you are walking. Occasionally you'll run into other people trying to backtrack because they are lost, but most of the time it was just us. So I suggest taking a friend or in a group, that is unless you plan to go solo and take your own chances!
Overall we had a great time, especially for the price. Which was less than the cost of a movie ticket, plus we walked over a mile and got some exercise too! Sometimes a great deal is not so much the cost but the enjoyment factor for the price paid!
In addition to the Corn Maze and for an additional fee they had these activities:
Hay Wagon Rides

Piglet Races
Batting Cage

Pony Rides

Mini Maze

Corn Cannon

Pumpkin Bowling

Ducky Races

Corn Boxes

Face Painting
Plus, on Saturday October 5th, 2013 they will have a Classic Car Craze event.  You can also see Big Foot smash cars at 2pm!
Here are the details you'll need to have fun at the Big Horse Corn Maze in Temecula:
Hours:
– Open daily –  Oct. 5th – Oct. 31st, 2013
– Sat/Sun:     10:00am – 4:00pm  (Last Maze entry is 4:00pm on Weekends)
– Weekdays:   1:00pm – 5:00pm
Prices:
– Maze Entry: $9.00
– Kids Combo: $15.00 Maze admission plus 3 activities
– Children 3 & Under: Free Maze admission
– Military (with ID) get 1/2 admission for them and their immediate family.
– Parking – $5
Address:
33320 Temecula Parkway
Temecula, California 92592
Map:

View Larger Map