Case Logic SLRC-206 Best Camera Backpack Deal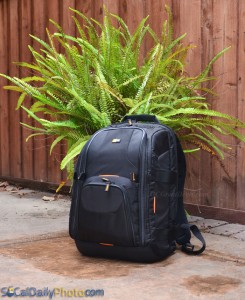 As some of you know I love taking photos, I run and contribute to several photography sites, including SoCalDailyPhoto. So I want to share a great deal on a camera backpack (Case Logic SLRC-206) that I personally use on a regular basis.
Almost every weekend, I'm out with my wife taking pictures of different places in Southern California. For example, the San Diego Safari Park, the Kite Party or coming up at the Long Beach Grand Prix. Plus at least once a year we take a week-long trip, like when we went on Oasis of the Seas or more recently to Maui.
When it comes to traveling by plane, having everything in one bag is essential.
This is where the Case Logic SLRC-206 backpack shines. It organizes my equipment securely, has a place for a large laptop or tablet, plus it has a hard waterproof base (just in case I placed it on a wet floor).
Here are a few reasons why I love it:
The bright orange interior color makes it easy to identify my equipment.

On a plane it's small enough to be a carry-on (fits in the overhead or under the seat).
Hard shell base is waterproof and makes the bag sit upright.
Camera sits on a "sling" at the top, making it easy to get in and out.
Looks more like a regular backpack than it does a camera bag.
At the current price, nothing else has the same features.
Last year during my trip to Maui, the bag made it easier to go through airport security. I didn't need to remove anything other than the laptop. It was a breeze!
Plus, it fits all my equipment. Look at how I organized my bag.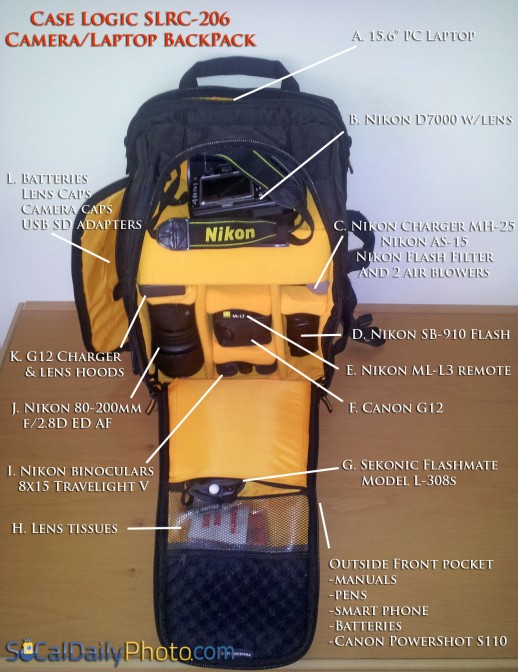 I was able to carry all my camera equipment, plus a laptop. Below is a list of all the stuff.
Inside the Case Logic Backpack:
A.  15.6″ Azus Laptop and cables
B.   Nikon D7000 w/lens
C.   Nikon Charger MH-25, Nikon AS-15, Nikon Flash Filter, 2 Airblowers
D.  Nikon SB-910 Flash
E.  Nikon ML-L3 Remote
F.  Canon Powershot G12
G.  Sekonic Flashmate L-308s
H.  Lens tissues/cloth
I.  Nikon 8×15 Travelight V binoculars
J.  Nikon 80-200mm f/2.8D AF w/hood
K.  G12 battery charger and various lens hoods
L.  Batteries, lens caps, camera caps, USB SD adapter
Outside Front Pocket:
– Manuals
– Pens
– Smart Phone
– More batteries
– Canon Powershot S110
– Notepad
As you can see, it was a lot, but nicely organized.
The Case Logic SLRC-206 backpack normally sells for $119, but currently its on sale for about $67! Depending on when you read this article, the price may fluctuate up or down about $10, but either way, that is almost 50% off.
That's what I call a good deal!
I recorded a short video showing you the Case Logic SLRC-206 backpack.