Kite Party 2013 is this weekend at Huntington Beach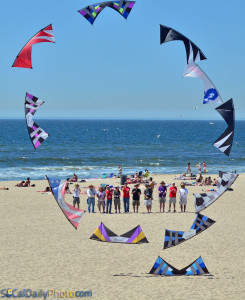 UPDATE: You can see photos and a video from this event at SoCalDailyPhoto.
This weekend March 9-10, 2013, don't miss the popular Kite Party in Huntington Beach.
Organized by the Kite Connection, which is the store located on the right (north) side of the pier. This year it takes place Saturday and Sunday March 9-10, 2013.
The main area on the north side of the pier is usually sectioned off for the pro's. This is where you can watch some of the best kite flying around. Then throughout the rest of the beach, people of all ages are encouraged to fly their own kites.
My wife and I have attended the last several years and it's so much fun. Even if you don't have a kite (which you can buy at the event if you really want one), sitting out and watching the performances is very enjoyable.
The event is free for spectators so don't worry, bring the whole family.
I've been to other kite "festivals", but this one is different, probably why they call it a "party" instead of a festival.
So make a day out of it, take a couple of beach chairs. Watch the performances, then walk over to main street for lunch or an early dinner.
Huntington Beach Kite Party 2013
Also, if you'd like to see a live shot of the Kite Party, the Kite Connection has one pointed to it HERE!
– For more information about this event visit the Kite Party website.
Below are a few photos courtesy of SoCalDailyPhoto.com and a short video from last year: