Free Short Stack of Pancakes – IHOP National Pancake Day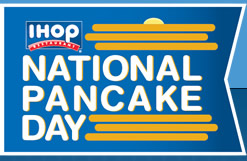 On Tuesday February 5, 2013, IHOP is celebrating National Pancake Day. This means you can get one free short stack of Buttermilk pancakes!
Why are they doing this? Well, it's actually a fundraiser. You get a free short stack of pancakes but they are asking guests to consider leaving a monetary donation for Children's Miracle Network Hospitals. The decision to leave a donation will be left to the guest.
Sounds like a good deal to me, plus it's for a good cause. There's an IHOP here on Tustin St. in Orange so I might head over on Tuesday.
You can find more information on IHOP's National Pancake Day by following the link above.
Find a local IHOP near you here.
Also, because this offer is only at participating locations, I suggest you ask at the restaurant about it prior to ordering.