Free Sundae at Farrell's on Barbie's 53rd Birthday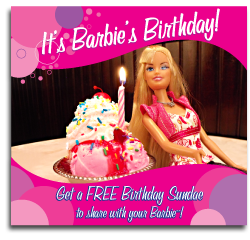 This Friday March 9th, 2012 Farrell's in Brea, Mission Viejo, Rancho Cucamonga and Santa Clarita will be celebrating Barbies 53rd birthday with a free sundae (with purchase of regular entrée and drink).
Farrell's is always a fun family place, so whenever they have this Barbie birthday promotion I like to pass it along.
Farrell's did this last year, but it seems more locations are now participating. In addition to the free sundae mentioned above, the website also states:
"Join us at 4:00pm, we'll create a special, Barbie-inspired, Farrell's famous 30 scoop, 5 ½lb. ice cream Zoo to run around the restaurant, complete with sparklers and the guest of honor herself sitting atop. Then the entire restaurant will sing a uniquely created happy birthday song and we will dish up the Zoo for our young guests to enjoy for free*. PLUS… birthday presents will be given out to some of our guests who brought in their Barbie*!"
And if you can't make that specific time, don't worry the regular free sundae I mentioned in the first paragraph will be available all day on March 9th, 2012 (well, you know the usual, as supplies last).
Here are the details for the free sundae:
Kids can take in any doll or action doll, (Barbie, Ken, GI Joe, etc) and get a free sundae (with purchase of entrée and drink). See website for any restrictions.
Date: Friday March 9th, 2012
Locations: 
Downtown Brea (714) 990-4386 (4FUN)
Mission Viejo (949) 364-5411
Rancho Cucamonga (909) 989-8777
Santa Clarita 661-253-4386 (4FUN)
Visit the Farrell's website for complete details, including any restrictions or requirements for this offer.