Surf City Days in Huntington Beach 2011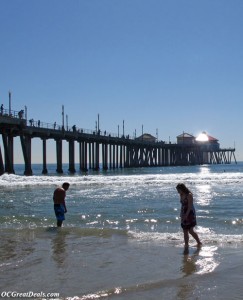 Surf City Days 2011 in Huntington Beach runs from Saturday Sept 16-17, 2011 on the South Side of the Huntington Beach Pier.
I love these end of summer events at the beach, especially the sand castle contest, which takes place on Sunday. Sometimes I forget how fortunate am to live in Orange County, with so many free events available!
Surf City Days is a two day event that takes place on the south side of the HB Pier as well as on Main St. on Saturday and Sunday (Sept 17-18, 2011). Check the schedule below:
Sand sculpture contest – 8am (Saturday & Sunday)
Beach volleyball tournament – 8am (Saturday & Sunday)
Stand up paddle boarding competition – 9am (Sunday only)
Waterman challenge and marine safety demo – 12am (Sunday only)
Board auction and board expo – 10am on Main Street (Sunday only)
If you'd like to participate in the volleyball tournament, registration starts at 8am Saturday and play starts promptly at 9am. You can register
here
or visit the
HB Downtown website
. There you can also register for the
sand castle competition
as well, both have a $20 registration fee (for volleyball its $20 per person and for sand castle competition its $20 for a 20×20 site).
All events are free for spectators, so enjoy this great end of summer weather we are having and spend the day at the beach!