Save money on gas and have fun with a Cargo Bike – iCARGOBiKE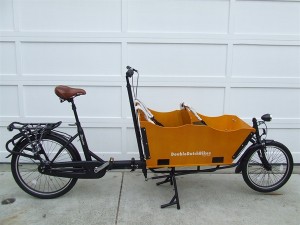 Want to save money on gas and have fun doing it? Ride a Cargo Bike from iCARGOBike!
Yes I know it may not seem practical when you have two kids, groceries or other important things to haul around. But I found this pretty neat bike shop in San Clemente called iCARGOBike, they sell true Cargo Bikes, I mean these things are made to haul all your stuff down to the beach, the store or work!
Why do I consider this a good deal for Orange County? Well, we're so close to the beach, many of us live in communities where biking is very practical since bike paths are found almost everywhere. And like you, I hate paying so much for gas and whenever I go to the beach, parking can be expensive and costly too. So one of these Cargo Bikes seems like a good deal. Much like an electric car that pays for itself over a couple of years, I'd say a Cargo Bike can pay for itself in a few months!
Benefits of a Cargo Bike or biking in general:
Save money on gas (generally costs about $3.85 gallon – no thanks!)
Save money on parking fees (an all day pass at the beach normally costs $15! no thanks)
You lose weight and don't need to pay fees to the gym anymore – that I like!
Saved more money on gas because now you don't go to the gym!
You sleep better, exercising has proved to relieve stress and help you sleep easier.
I can go on and on, but you get the picture!
I'm a graduate of UC Santa Barbara and I remember spending more time on a bike getting around town than in my car. I loved it so much that when I moved back to the "big city" I really missed this option. Luckily here in OC we have many bike paths so the only excuse we have are the ones we make up ourselves. Next time you want to go to the beach for the day, leave the minivan at home and take a Cargo bike!
Right now iCARGOBike in San Clemente is having a one year anniversary sale with up to 50% off. They are located at:
2122 S. El Camino Real #A
San Clemente, CA 92672
(888) 865-4804
http://www.icargobike.com
Also this Saturday, August 27, 2011 from 12-4pm, they will have a BBQ event where you can learn more about Cargo Bikes and their custom made bicycles.