FREE breakfast entrée at Chick-fil-A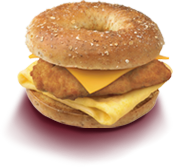 Get a FREE breakfast entrée at participating  Chick-fil-A® restaurants  from September 6 – 10, 2011. However, you must make a reservation online at the Chick-fil-A for Breakfast page.
They will start accepting reservations on Monday, August 29, 2011, that's when you'll choose your preferred Chick-fil-A restaurant, the date, time and breakfast entrée.
I love Chick-fil-A, they have great food and creative promotions, like the dress like a cow Chick-fil-A contest they had earlier this year.
So be sure to reserve your Chick-fil-A breakfast entrée on Monday, August 29th, 2011. I always visit the Chick-fil-A in Orange on Tustin Ave, so I hope it will be one of the participating locations, which they normally are!