More $99 HP TouchPads will be available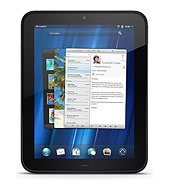 News came today from HP that more units of the liquidating HP TouchPads will be available early this week (August 22, 2011). Please note that site might be down at times.
If you haven't heard, this past weekend the HB TouchPads went on sale – $99 for 16GB and $149 for the 32GB. This was a $300 price drop. Both online and at retail stores like BestBuy, Frys and Walmart sold out within a few hours. However, today we got news directly from HP that more are on the way, not from new productions, but from existing inventories.
According to the HP twitter account, the new batch of units will be sold via their own HP Store online only. Plus they setup a website page so you can sign up and get an email alert when they will be available for sale.
Why all the hype you say? Well, HP announced last week that they are moving away from creating tablets and maybe even computers all together. So they're pretty much liquidating the TouchPad inventory. Seems all the local retailers are out here in Orange County, so the only way anyone can get one is online.
As for the HP Tablet itself, I personally don't own one but it seems from online reviews it's a bargain for $99. Great for home use or anywhere there is a WiFi connection. It allows you to surf the internet, check emails and stuff. So for a 75% discount off the regular price, I'd say this is a true "outlet" great deal!
– Get an HP TouchPad email alert for when it's available.
– Get Twitter alerts from HP directly.
– See full HP TouchPad specs.
***If the "alert" link above is down, try again later, there are lots of people trying to register.
Wondering what to do if you paid full price for your HP TouchPad? If you purchased your item in the last 30 days, go back to where you purchased it and ask for a price difference refund. Each store will have their own policies.
Finally, I've already seen several fake websites stating they have some available, don't believe it most of these are scams. Trust only the legitimate HP site link I provided above or established retail websites like Amazon and BestBuy.