4th Annual Orange County Canstruction at South Coast Plaza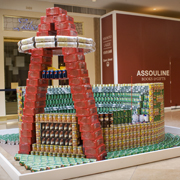 The 4th Annual Orange County Canstruction® design/build competition display will be at South Coast Plaza from September 3-25, 2011.
Each year teams of architects and engineers come together and compete by creating unique sculptures made entirely out of canned foods! The teams have 12 hours, working all night on September 2nd after the mall closes to the public, so that we can see them on September 3rd.
This year the teams are:
CH2MHill
Disneyland Resort, Design & Engineering
Dougherty + Dougherty Architects LLP
FIDM – Fashion Institute of Design & Merchandising
Flour
Gensler
Hall & Foreman, Inc.
Jacobs
Lionakis/Cal Poly Pomono
Patriot Environment Laboratory Services Inc.
PJHM
Suffold-Roel
URS Corp
Ware Malcom
WATG
The structures will be on display and open to the public on both sides of the South Coast Plaza from September 3-25 in conjunction with Festival of Children. Then at the end of the event all the cans of food will be donated to the Orange County Food Bank for distribution.
I recall seeing this before but didn't know the details, luckily this year we got a heads up before it starts and can inform everyone of this creative way to help the OC Food Bank and see some awesome pieces of construction art for free!
Canstruction® is a non-profit organization that holds events throughout the world and last year held events in 75 North American cities.
More information: CanstructionOC.org
Viewing Dates: Sept. 3-25, 2011
Where: South Coast Plaza
Cost to view: FREE!
Here is a video from a past year: