Chick-fil-A dress like a cow get free meal!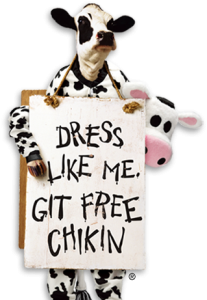 Dress like a cow on Cow Appreciation Day, Friday July 8 2011, at your local Chick-fil-A restaurant and get a FREE meal!
That's right if you dress like a cow, completely from head to toe you will get an entire meal for free. If you only wear a partial costume the you get a free entrée.
Sounds to me like a fun way to do things, especially if you have little ones. I'll bet that some folks will be visiting simply to see all the funny cow costumes show up!
Here in Orange, we have one on:
2575 N Tustin St.
Orange, CA 92865
To find a Chick-fil-A near you, visit their restaurant locator.
Need some help creating your cow costume? Well seems Chick-fil-A thought of everything. You can download a Cow Costume Kit, print it out and you'll be set to go.
Don't forget its Friday, July 8th. Have fun!