Huntington Beach 4th of July 2011 schedule of events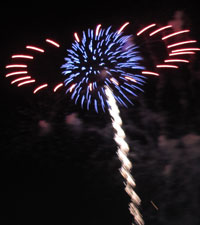 This 4th of July weekend in Huntington Beach is the place to be for great weather, music, a fun parade and of course the fireworks. To make it easier for you to plan your weekend, I've collected a list of events for the three day weekend.
The events start on Saturday July 2nd and go through July 4th. The two notable events on Monday the 4th of July are the 107th Annual Huntington Beach Parade which runs from 10am-12pm and the fireworks show at the HB Pier at 9pm.
– Saturday, July 2nd, 2011
Music at the Pier
4:00pm-5:00pm Huntington Beach Dance
6:00pm-7:00pm Tapua Productions
8:00pm-9:00pm Adam Ho
– Sunday, July 3rd, 2011
Music at the Pier
1:30pm-4:00pm Rockstars Students Performing Hits from 1975-1979
5:00pm-7:00pm Rockestars Staff Performs The Great Dance Hits of the 70s and 80s
7:30pm-9:00pm Rockstars Adult Students Performing Hits from 1975-1979
– Monday, July 4th, 2011
6am – 10am Lake Park Breakfast
7am – 12pm Surf City 5k Run and Fitness Expo
10am – 12pm Huntington Beach 107th Parade
1:00pm-2:30pm Surf City Trivia (music at the pier)
1pm – 7pm Main Street Family Activities
3:00pm-4:30pm Adam Ho (music at the pier)
5:00pm-6:00pm Amy Scruggs (music at the pier)
7:00pm- 9:00pm Soul Shadows Brought to you by K-Earth (music at the pier)
Fireworks Show 9pm – July 4th ONLY
Events are free to spectators but one can purchase bleacher seats to the parade or firework show by visiting HB4thofJuly.org. Below is a great promo video I found on Youtube showing what you can expect this year in Huntington Beach!