Balboa Island Artwalk – Over a Mile of Art!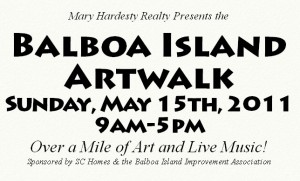 This Sunday May 15th, 2011 the Balboa Island Artwalk will take place with over a mile of art and live music!
Some of the best local artists will be exhibiting paintings, fine jewelry, blown glass, sculpture, and photography. Plus live music will be played throughout the day.
Be sure to stop by and visit Ken Harris, he'll be one of the participating artists at this event.
Event details:
Date: Sunday May 15, 2011
Time: 9am-5pm
Location: Balboa Island, South Bayfront. See Map for exact location and parking.
Cost: Free for spectators
Event presented by Mary Hardesty Realty