Get $25 Restaurant Gift Certificates for only $2!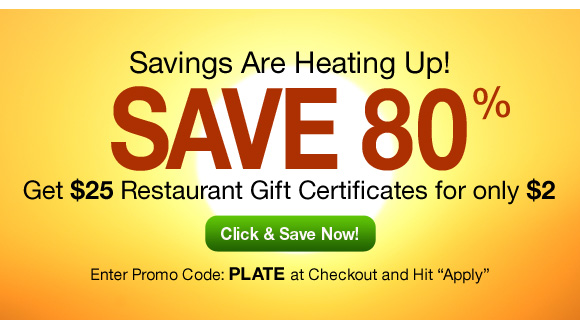 Offer expires July 31.
Here is a great deal for a variety of restaurants in your area. I personally use this service from restaurant.com. Right now they are having their summer sale, so you can get $25 restaurant gift certificates for only $2 instead of the normal $10. Use promo code PLATE at checkout.
If you have never used this site, this is the best time to get some great deals from your local restaurants. This is how it works, search the site for a restaurant that you like, read the gift certificate minimum order and other description. Purchase the $25 gift certificate that normally cost $10, at checkout use the promo code PLATE to lower the price to $2! After purchase you will be able to print your certificate.
Please note that all the $25 gift certificates do have a minimum restaurant purchase of $35 and automatically add 18% gratuity to your bill using the before discounted total. Read the requirement for each one before your purchase it. For my wife and I whenever they have the $2 sale, we stock up on gift certificates. Normally they don't expire for several months or up to a year. So basically purchase $35 worth of food, they add the 18% gratuity and tax, then they deduct the $25 from the total. Not a bad deal.
Visit Restaurant.com and use promo code PLATE at checkout.
Offer expires July 31.