Jack in the Box Free FryDays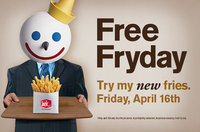 Seems Jack in the Box is thinking out of the box and offering a small order of their new french fries this Friday.  No additional purchase is required!  Here are the details to get your free fries:
– Jack in the Box calls it Free Frydays and offer is only available on April 16th. One offer per person. At participating restaurants. Small fry only. Offer not valid in Spokane, WA & Tulsa, OK.  You don't need a coupon, but you do need to go in person to get your fries. No purchase necessary!