Discount Admission Tickets and Deals – 2013 LA County Fair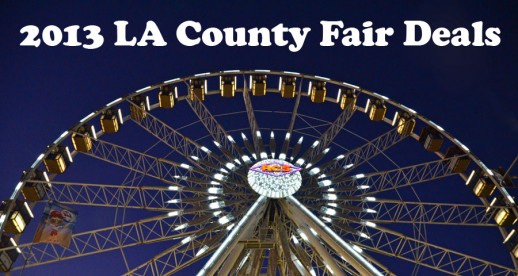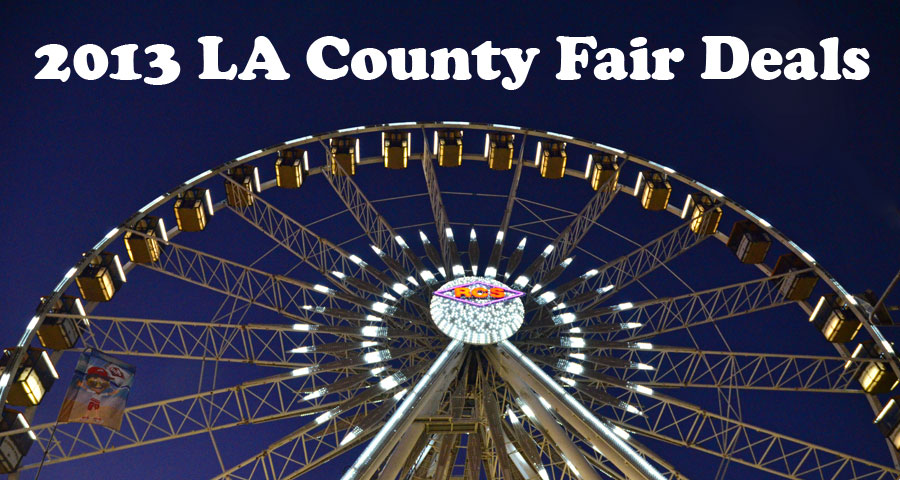 This year the  2013 Los Angeles County Fair celebrates its 91st anniversary. They expect to have more than 1.5 million visitors through its run of Friday August 30 – September 29!
It's no secret that my wife and I love going to the LA Fair, so like the previous year, I've decided to share the various discounts and offers that we plan to use when we go this coming weekend.
First, I'll go over the main admission and food discounts, including those on opening weekend. Then I'll share ways you can get free tickets to the concerts.
So lets start with the opening weekend.
LA County Fair Opening Day Deals for 2013
On Friday, August 30, 2013  the Fair opens at 3 p.m.
$1 admission from 3-6 p.m.
$12 admission from 6 p.m.-midnight
$2 carnival rides from 6-9 p.m.
$2 games from 9-midnight
$1 regular soft drink, 6-9 p.m
Note that the above prices are ONLY for opening day.
L.A. County Fair Opening Weekend Deals (Sat, Sun, Mon)
$1 admission 10 a.m.-1 p.m.
1 p.m. to closing $19 – adults
1 p.m. to closing $12 – kids
$1 regular soft drink, 1-4 p.m
$2 carnival rides & games 4-7 p.m.
LA County Fair deals
Ralphs Any-Day Ticket
Starting August 19, 2013, participating Ralphs grocery stores will be selling adult admission tickets for $10 and $6 for ages 6-12, plus when you purchase your ticket at Ralphs, they will have an exclusive unlimited ride carnival wristband offer (purchase required, restrictions apply see store for full details on the "Any-Day" ticket offer). Here is a pdf file of the participating Ralphs stores where you can buy these Any-Day Tickets.
Cardenas
This year you can also purchase tickets at participating Cardenas locations.  Adult tickets are $10 and tickets for children ages 6-12 are $6. Tickets available August 19 through September 29.
Wild Wednesdays, presented by Farmer Boys and Del Taco
Fair admission and a carnival ride wristband just $25 on Wednesdays only. Here's a list of participating stores for Farmer Boys and Del Taco. The coupons will be available August 28 through September 25.
Children
Children ages 6-12 are admitted to the Fair weekends for $12 and $8 Wednesdays through Fridays. Ages 5 and younger are admitted free every day.
Senior Wednesdays
$5 admission for seniors on Wednesdays, with coupon from a local LANG publication. Or click here for a coupon.
Los Angeles County Day
On Sunday, Sept. 8. Good for employees of Los Angeles County only. L.A. County employees, families and friends receive an exclusive $5 offer.
Circus-Circus LA County Fair coupon
$5 after 5 p.m. presented by Circus Circus Las Vegas, Wed. & Thurs. only. $5 admission to the Fair with coupon. Children ages 5 and younger are free!
Food Drive Fridays
Guests receive free Fair admission in exchange for five canned products on Fridays. Free admission good that day only , noon- 6 p.m. only.
Weekend for Heroes
Saturday Sept 7, active and retired military, reserves, police, fire and paramedics, with ID, along with one guest, can attend the Fair for $1 each; proceeds from the $1 admissions will be donated to the Los Angeles Fire Department Foundation.
Costco Fair Savings Pack (Great deal for a family of 4)
Participating Costco stores will be selling sets of four (4) 2012 L.A. County Fair tickets, plus one parking pass and 44 RCS ride/game tickets for $59.99, now I'd say this is probably the best deal for a family of 4. Please note that NOT all LA Costco locations will be selling these tickets, see list of Costco stores selling LA County Fair tickets. Or you can buy it online at the Costco website.
Discount days for specific Southern California College Students
College students, faculty and staff will get one free admission on their respective college day. Alumni get $10 admission on their respective day. PLEASE NOTE: A coupon or voucher is required for all college day discounts, you get these at your specific college campus.

Western University Day, Sunday, Sept. 8
University of La Verne Day, Thursday, Sept. 12
Azusa Pacific University Day, Saturday, Sept. 14
Chaffey College Day, Saturday, Sept. 14
USC Day, Thursday, Sept. 19
Mt. Sac Day, Thursday, Sept. 19
UCR Day, Friday, Sept. 20
Citrus College Day, Wednesday, Sept. 25
Claremont Colleges Day, Thursday, Sept. 26
CSUSB, Friday, Sept. 27
Cal Poly Pomona Day, Saturday, Sept. 28
UCLA Day, Saturday, Sept. 28

*Coupon required to receive discount
Special Tip: Want free 2013 Los Angeles County Fair Concert tickets?
Most people are unaware of this, but a few free general admission tickets to the Grandstand End of Summer Concert Series at the L.A. County Fair are made available at the ticket kiosk located on Rose Lane at 3 p.m. on the day of the concerts. All are first come first served and each person requesting a free ticket must be present. Please note that concert tickets are separate from fair admission, you must still pay for admission to the fair.

Directions
and address to the LA Fair in Pomona:
1101 W. McKinley Ave.,
Pomona, CA 91768
Map:
For a complete list of published offers and promotions visit the website for the LA County Fair.
*All offers and promotions are subject to change, this page is created as a service to the local community. All deals were verified and available on the day of publishing.