Chipotle Teacher Appreciation Buy One Get One Free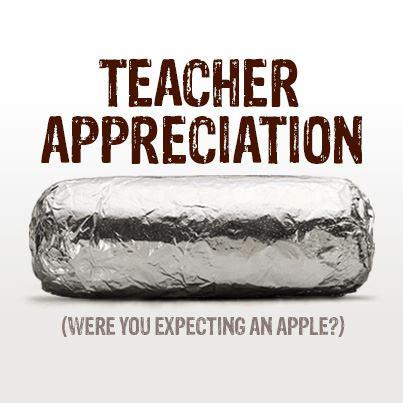 Just in case you haven't heard yet, Chipotle is honoring teachers on Tuesday May 7th, 2013 with a Buy One/Get One Free burrito (or bowl, salad or order of tacos) with valid ID, offer good only from 4pm to closing.
It's in honor of National Teacher Appreciation Day.
Offer is valid from 4pm to closing on Tuesday May 7th. Nope, not before or after.
So if you're a teacher make sure to mark it on your calendar. And for those who aren't, then this is a good time to becomes good friends with one!
Here's a link to their facebook posting.
On a side note, you've probably noticed from my postings this last year that many companies are now moving away from giving something entirely free. The deals are now moving back to "buy one get one" or "free with purchase".
We'll see how this new trend will work, although here in OCGreatDeals have still manage to post some entirely free deals in recent months, so be sure to follow us!
Follow us on: Facebook | Twitter | Google+
If you like this post, why not share it with your friends? Use one of the buttons below.