Celebrate UCI 2013 Open House – Wayzgoose – Car Show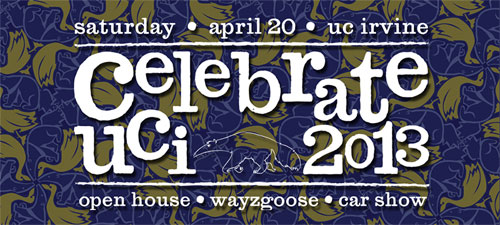 The Celebrate UCI Open House, Wayzgoose and Car Show will take place this Saturday April 20, 2013. It's one of the more popular spring events in Irvine.
The event features an outdoor Festival, Open House and a Car Show. According to the UCI Celebrate website:
"Wayzgoose, UCI's oldest tradition, is a student run festival in Aldrich Park – filled with live entertainment, food, games and rides for UCI and the community. Many offices and services will be open or available with information for everyone especially prospective students."
The events are FREE and Parking is complimentary. Nice! This is a fun festival, lots of activities, booths and music.
Details:
Date: Saturday April 20, 2013
Time: Most events begin at 10:00 am
Location: UC Irvine
For more information visit the Celebrate UCI website.