Car Show This Sunday at the Orange Plaza – April 21 – 2013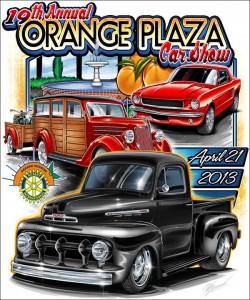 This Sunday April 21, 2013 is the annual Orange Plaza car show. If you like old cars and a nice family event, then you don't want to miss this one.
It's the 19th year that the Orange Sunrise Rotary hosts it and money raised helps fund community service projects in the City of Orange, including:  vocational and business skills, and education and literacy programs for youth and adults.
The entire Orange Plaza is shut down to traffic and classic and muscle cars are lined up throughout the streets. I've added a few photos below so you can get an idea of what to expect.
Expect to see Street Rods, Custom and Classic vehicles. Spend a few hours looking at the cars then visit one of the local restaurants for lunch!
It's  a great family event, especially for the kids, oh yeah and dad too.
They say about 15,000 spectators attend the event, I live near by and often go each year, I'd say that number is about right. This is a big car show.
And of course admission for spectators is FREE!
Event info:
19th Annual Orange Plaza Car Show info
Hosted by: Orange Sunrise Rotary.
Place: Orange Plaza (Orange Circle) See map.
Date: Sunday April 21, 2013
Time: 8:00 a.m. – 3:00 p.m.
Photos from previous year's events can be seen below.
Photos provided by SoCalDailyPhoto