Apple Store's Black Friday One Day Only Discounts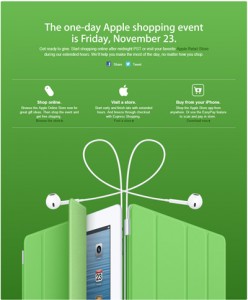 I'll discuss Apple Stores Black Friday discounts in a minute, but first I'd like to wish everyone a great Thanksgiving Holiday.
If you've noticed I haven't posted many Black Friday deals for 2012. The reason for this has more to do with the way the entire "Black Friday" has now taken over Thanksgiving Day itself.
Although there's a lot of good deals to be had, (actually the better deals are online, but I'll talk more about that later) it's become more difficult for the average person to take advantage of the deeper discounted items. With a very small percentage of the population willing to camp out for two, three or even five days before Black Friday, it doesn't make sense anymore to wake up early Friday morning to shop because all the deep discounted deals will not be available anymore.
In addition some stores are opening on Thursday evening as early as 8 pm. "Door Busters" initially were intended to get people up early and shop on Friday morning, but now it has created a gap from waking up a few hours early to now giving up several days of your life for the same deals.
So are there still deals available on Friday for the rest of us who like to spend Thanksgiving with our families? Yes, there are. In fact, I'll be at a local Sears getting a few things, but I'll be doing it after I have a nice breakfast at home at a decent hour!
But the real deals will be online, in fact many of the same deals on Friday at the various stores will be available online starting at 12:01 am.
I'll share them as I find them, but here is one that I know many of you have been wondering. Will Apple have any Black Friday discount deals? The answer is yes, but as for the exact discount, we'll need to wait until Friday.
I'm assuming from their teaser ad and small print:
"Shopping event prices are solely available on November 23, 2012, from 12:01 a.m. to 11:59 p.m. PST, are subject to change, and do not include taxes. Promotional pricing cannot be combined with any other offers."
That the discounts will be similar to last year, where we will see about a $40 discount for the new iPad and probably this year a deeper discount on the old iPad 2. As for the new iPad Mini, any discount I suspect will be very small if at all. But if you're in the market for any of them, it does make sense to wait until then. Plus you wont need to camp out, sleep in on Friday and enjoy the Holidays!