San Diego Safari Roar and Snore Review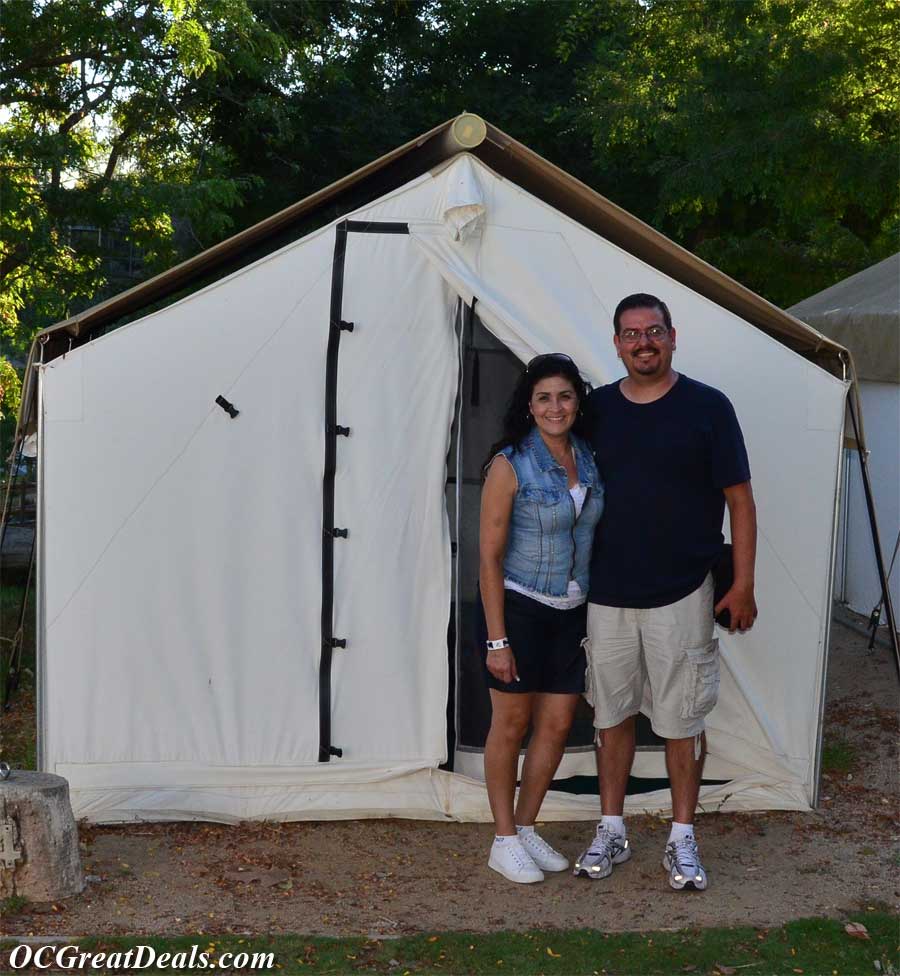 The San Diego Zoo Safari Park's Roar and Snore experience is great fun but with a few needed changes.
This past weekend my wife and I went on the Roar & Snore overnight camping experience at the San Diego Safari Park, so I decided to write this review for anyone who is thinking of going. I'll go over our experience then give you my "likes" and "dislikes" at the end of the article.
But first a disclosure. Unlike most of the other online reviews of the Roar & Snore experience, we were not paid or had a "free invite" to attend. Instead we won it through an online radio station website. Something I've talked about here in the past. So you can be assured this is an honest review.
Our overnight adventure was to start on Saturday night at 4pm, so we decided to take advantage of the regular day Safari Tram ticket (which is included in the package) and spend the day seeing the park prior to our camping.
It was summer, so the weather was very hot. We arrived around noon and spent the next four hours walking around and taking photos of the animals. By the time 4pm arrived, we were a bit tired and ready to relax at the camp grounds.
Check-in at Roar and Snore
Check-in for Roar & Snore is outside the park, so we had to exit the park (get our hand stamped) and get our sleeping bags from the car. When you arrive you check in your sleeping bag/luggage as they will transport those to your tent.
They allow roar and snore guests to park in the VIP parking so it's not very far. After checking in, we wait with the rest of the campers for about 45 minutes (drinks are provided) in a shaded picnic area.
At 5pm, we entered as a group and by this time I was hoping to relax a little at camp, which we did…sort of.

They sat us down, gave us a ticket for a free "drink" (beverage from the bar) and served dinner right away. By this time it's about 5:30pm or so, the sun is starting to go down but still plenty of daylight. Dinner is served in the perfect place, right next to the large open plains where the Giraffes and the rest of the animals roam.
Since we chose the adults only camp night, dinner consisted of salad, pasta, chicken, vegetables and dessert. For drinks, we could use our free drink ticket to get a beer or wine, but instead I chose the free lemonade and water. The dinner is buffet style so if you're really hungry, there's plenty.
By the time dinner is over, it's about 6:30pm. At this time they allowed us to visit our tent and relax until the first walking tour started at 7pm.
Our overnight package consisted of a Classic tent, which is a 9 by 14 ft tent with two windows and 4 three inch sleeping pads. To our surprise, non of the classic or Vista tents had folding chairs as so many of the online sponsored reviews show. I'll talk about this later.
Night walking tours
At 7pm our guide Audra, which was very friendly and professional took us on our first of two walking tours of the evening. It was still daylight so the African Plains open area looked so beautiful as the sun went down. Our walk took us through the now closed park, up to the bats enclosure followed by a short presentation from a park staff showing everyone a python snake.
It was completely dark now, so the flashlights the park recommend you bring come in handy for walking. We headed over to Elephant Valley to see a 4 day old baby elephant. Unfortunately it was dark and positioned in a way that made it difficult to see. However, earlier in the day during our regular walk on the park, my wife and I were able to see it very clearly. See photos.
From there we headed over to Condor Ridge to see a few of the birds. Again, you'll need your flashlight to see them. The area has very little to no light, so you get the idea.

This is when we finally headed back to camp. We arrived at about 9pm where the staff had prepared chocolate, marshmallows and crackers ready for everyone to make s'mores. My wife fired up the marshmallows over the fire, while I had a beer (with my drink ticket) and popcorn.
We take this time to relax and enjoy the night. The first walking tour was just ok. See my comments at the end about it.
The second walking tour of the night started at 9:30pm, although I was tired and not too impressed with the first one, we decided to go anyways. And I'm glad we did, it was much better.
First we headed over to the Lion Camp. It's a unique experience seeing them at night. Usually during the day all they do is sleep and lay out. At night they were a little more active. Later in the morning it got even better. But I'll get to that later.
After the Lions Camp we headed over to the Tiger Territory to see two baby Tigers in the back area where regular guests are not allowed. We were only a feet or two away from them it was a real treat.
A short walk from there and only a chain link fence separating us from the enclosure, with our flashlights we soon were approached by two large tigers. See video.
By the time we return to camp and call it a night it was 10:30pm.
I must admit, I was tired. Throughout the day I had carried a Nikon D7000 with an 80-200mm 2.8 lens and a 18-105mm lens. All very heavy camera equipment, so I was looking forward to a good nights rest.
This is probably the best part. Throughout the night (at least 5 times), the awesome sound of the lions roaring would wake us up. It didn't bother me or my wife at all, we loved it. It's something that we will always remember. This part alone is worth the price they charge for the experience.
Lions roaring in the morning
In the morning I woke up at 5:50am and packed up. The restrooms and showers are nearby and breakfast was going to be served at 7am. But before that, my wife and I headed over to see the Lions. The male and two females were up and putting on a great show. See the video below to see what I mean. If you've never heard a lion roar, it's quite an experience!
At 7am, we had breakfast which consisted of scrambled eggs, bacon, sausage, yogurt, pastries and orange juice/milk. By this time the staff had already picked up our luggage/sleeping bags from our tents and we headed for our final walking tour.
We took a walk down to the first area of the African Plains, where we got up close to the Giraffes and the rest of the animals, including the Cheetahs. Our tour and experience ended with a presentation near the exit of the park with staff showing us an armadillo.
Everyone had to exit, (got our hand stamped again) outside our bags were ready for pickup. For those who wanted could go back to the park for the rest of the day.  Since we had already been there the prior day, we decided this would end our trip.
Now let me give you my "Likes" and "Dislikes":
Things we liked:
Tent accommodations, it was very clean and comfortable.
Staff, very nice, fun and professional.
Food and drinks, all were much better than we expected.
Hearing the lions roar throughout the night, best part of the experience.
Things that could be improved:
At times it seems the pace of the program is a little rushed. Perhaps one walking tour the first night instead of two.
For many people who want to take great photos, the "golden hour" is just before sunset, don't take people on a walking tour through the park where it's dark, let them stay and view the colors and animals in the African Plains just outside their tents.
Place two folding chairs in each tent regardless of program.
Add a third program targeting photographers. I noticed so many people who were there to take pictures of the animals in the open, not held by a caretaker. Many people were upset that the daylight (golden hour) was wasted in walking and not seeing anything.
Finally, I want to say that overall we had a great time and although there are a few needed improvements on the walking tours, it's still a very unique experience. Our stay was booked for the adult only night, but I can see how a family with kids would love it. The family with kids night are done at a different night. See the Roar and Snore for scheduled dates. Prices can also be found there, sorry I don't have any coupons or discounts for it, but expect to pay around $182 per adult.
Here are a few photos from our experience.