It's here – 2012 Nike US Open of Surfing in Huntington Beach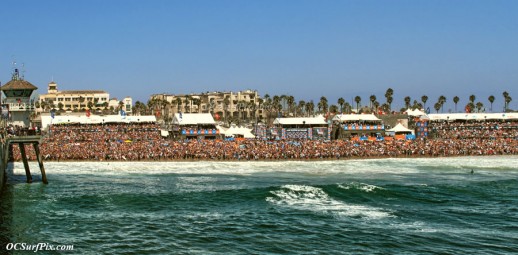 Get ready for the 2012 Nike US Open of Surfing, it starts this weekend July 28 and runs through Sunday August 5th. Thousands of people gather for a week-long surfing competition, sports and music festival on the sand in Huntington Beach and you don't want to miss this big party.
In the last several years, this has become more than just a surfing competition, it's also a music and lifestyle event with a custom built skate park right on the sand. And it's all free for spectators! Yup, that's one of the reasons I'm posting it on OCGreatDeals.
They say that half a million people take part in the US Open of Surfing, I've been there many times and I can tell you that it's probably a lot more. It's a BIG event.
This week long festival includes, concerts (free for spectators), a skate park (free to use, see schedule) and of course the surfing competition.
I've included a link to the schedule that will help plan your visit along with a few of my own tips.
Schedule of events – It runs for over a week, check the schedule before you go.
Parking at the US Open of Surfing is challenging. It's $15 for all day parking, on both sides of the pier lots or metered parking on PCH ($1.50 per hour, most take coins). Or free public parking if you park in the neighborhood. Arrive early for all options.
No alcohol is allowed or sold at the festival grounds.
Bottled water is not sold at the venue either, take your own water.
Food – restaurants can be found across the street on Main St.
Event takes place on the south side of the Huntington Beach Pier.
When: Saturday July 28 – Sunday August 5
(venue is open from Thursday July 26 – Sunday August 5th)
Location:
South Side of the Huntington Beach Pier
Main Street & Pacific Coast Hwy
Huntington Beach, Ca 92648
– Map
For more information visit the US Open of Surfing website.
Finally, throughout the week OCSurfpix.com will be posting photos of the event. Here are a few pictures from last year's event.