Best 4th of July 2012 Firework Shows in OC and Los Angeles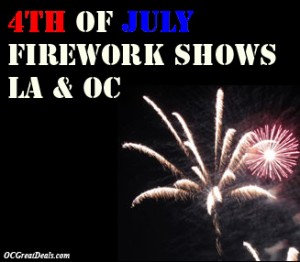 Wondering where to see the best fireworks this 4th of July 2012 in Southern California? Well, you've arrived at the right place.
I've compiled a list of the best free firework shows in Orange County and Los Angeles County.
In most cases the fireworks shows are free for spectators, but in a few places there may be a small charge, I'll indicate that in the description.
Remember, this year 4th of July is mid-week Wednesday so expect lots of people to stay local to view fireworks.
Finding a place near you should be easy with the list below.
Best 4th of July fireworks shows in Orange County
Best 4th of July fireworks in Los Angeles County
Note that these are not all of the firework shows, there are a few others but those charge a fee and are not in an area that can be viewed easily from a "free" areas. Some like the Queen Mary fireworks show, although a paid event if viewed from the Queen Mary area, is easily veiwable from many parts of the Long Beach harbor.
Have a safe and fun 4th of July!