4th of July Huntington Beach Parade and Fireworks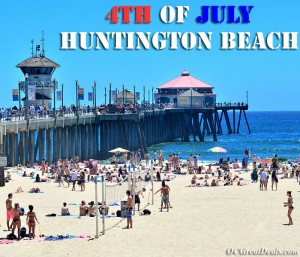 One of the best places to spend 4th of July 2012 is in Huntington Beach.
This year July 4th lands on a Wednesday so Huntington Beach is throwing a four day long party starting on Sunday July 1st.
It ends with a spectacular fireworks show at 9 p.m. Wednesday night. But not after a full day of events, starting with the 108th Annual Huntington Beach 4th of July Parade.
Below is a short list of events happening from July 1st to the 4th, 2012.
– Wednesday, July 4th, 2012
Plus Sunday July 1st through Wednesday July 4th at Pier Plaza you'll find a large Festival with local merchants, food and entertainment.
I was there as they were setting up yesterday and it's going to be a big party. This year they even have the largest inflatable water slide, for those who want to get a birds eye view of the area as you slide down!
As for the two main events, the 4th of July Parade and later the Fireworks Show, you have the option of viewing them for free (need to arrive early) or purchase VIP tickets.
Parking at Huntington Beach on 4th of July
Most people who have never attended the 4th of July in Huntington Beach are surprised at just how difficult parking can be. It's not because there aren't any, not so. It's simply due to the extreme number of people, I'm talking about several hundred thousand! Yup, it's a big party.
So just know that the best way is to arrive very early, I'm talking about 7 a.m. early. Beach parking is $15 for the full day, or if you find street metered parking it's $1.50 per hour so take lots of coins, only a few take credit cards. Or your final option is to park in the residential area that surrounds downtown Huntington Beach.
If you arrive after 9 a.m., expect parking to be a challenge already and be prepared to walk. Most people are there all day up to the fireworks.
Finally, don't think that the only thing to do is lay out at the beach. No, there's lots more than that. You can go surfing, visit downtown and shop the many stores or eat any of the many restaurants. It's a fun family atmosphere so take advantage of our great Southern California weather!