How To Win Prizes and Giveaways from Radio Station Websites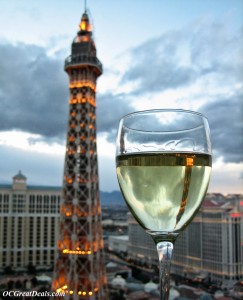 In the past five years I've traveled free to New York, Las Vegas and obtained free tickets to over 15 sporting & musical events plus a couple of theme park annual passes. Yes, completely free and now I'm going to reveal my secret to getting all these great free deals.
First I need to give credit to my wife, she started this craze of "winning" in 2008 when she won a three night trip to New York (all paid for plus $900 cash) through the KOST radio station in LA. The total package was valued at over $3,500. See photos below.
We had such a good time and it reminded me of my "big" win in 1994 when I won a car at a Laughlin casino. Sure both were all luck, but it was because of the NY trip that the next four years would be filled with free trips and tickets to/for:
Las Vegas Paris 2 night stay
Barry Manilow Las Vegas Concert ticket
Private VIP party and sing-a-long (8 people) with Donny Osmond
Toyota Grand Prix of Long Beach (4 weekend tickets 3 years in a row)
Universal Studios Annual Passes (4 tickets)
Pageant of the Masters in Laguna Beach
Free Marie Calendar's Pies
Mark Anthony concert
OC County Fair tickets (2 years in a row with added concert tickets)
LA County Fair tickets
Duran Duran private VIP concert
Grammy Museum tickets
$500 JC Penney's Gift Card
$200 Disney Gift Card
Caesars Palace & Celine Dion concert
And many more
Oh did I mention that this week we won a two night stay at the new Octavius Tower at Caesars Palace in Las Vegas, plus tickets to see Celine Deon…yup all for free!
Here are a few pictures from our free trips and deals.
| | |
| --- | --- |
| From my free New York Trip – Taming the Bull in WS. | A the top of the Empire State Building during my free trip. |
So you may be asking yourself, how do we "win" so much stuff? Luck you say? If it was only up to "luck", then there wouldn't be any need to explain how we do it, I would simply say "enter" and "good luck!".
But we don't leave it all up to "luck", we carefully choose what and how we spend our time to increase our odds. This is the key. So lets start.
First we only use local/regional, legitimate (verifiable) company sponsored website club reward websites by radio stations that allow users to accumulate points online and trade them in for prizes or raffle entries.
The main company doing this is Clear Channel and they have stations throughout the country. Not all of their radio station websites have a club reward point program so you need to find one in your area. You can find one in your city here.
All the sites are free to register and you accumulate points by answering trivia questions, surveys, visiting featured links and playing online games.
How much time will this all take? Not as much as you think. If you have a Facebook account ask yourself, "how much time do I spend on Facebook each day"? We spend about 15 minutes a day "getting our points" for the radio station site, that's less than most spend on Facebook each day.
Now that you know where we get these prizes and the time it takes, lets get into our strategy.

Why local/regional radio websites? The amount of registers users are less then any national company website. For example the KOST website, which is one that we are members of, has about 24K Facebook Page Likes. We can't know how many are registered but it's safe to assume that they have around 25 to 30 thousand registered members on the site.
I'd rather spend my time trying to "compete" with 30K members than with 1+ million members on any national brand website. Yes, it's still up to "luck", but we're playing it smart and spending our time only if the odds work for us.
A few more pictures from our free trips.
| | |
| --- | --- |
| My wife and Donny Osmond at a private party in Las Vegas | Barry Manilow in Las Vegas from our free almost front row seats. |
Registering for the right program
So now that you've found a station and website in your area, be sure to register at the right place. There should be a button that says "(radio station) Rewards". If you can't find something like that then it doesn't have one.
Don't confuse it with a sign up to an email newsletter, that is completely different.
Getting your points – Can be done once a day
Answer the trivia questions.
Answer all the surveys (about 3 a week) about 1 to 5 questions.
Click on the "featured links".
Play some of their online games to obtain points.
Your points expire every six months if you don't trade them in for prizes or entries. During that time you can accumulate well over 1 million points. Which brings us to the second part, getting prizes for those points.
These websites allow you to trade your points for prizes directly, by an auction or for entries into a raffle with a prize.
All the Clear Channel radio sites are similar in structure. Once you register, go to "use credits" or "prizes available" to see available prizes. The sites use one of three methods to reward each prize.
Auction style – You'll be able to use your points to "bid" on the prize. Note that although there is an end time the auction will continue until there are no active bids for a set amount of time. Once this time is reached and you are the final bidder then you won and the prize is traded for the points you bid.
Directly trade points for prize – They call this the "mall", it's where the prize will be available for anyone to trade the specified points for a prize. A specific date and time is given when the "mall" will be "open" and you can trade your points for it. Note: quantity is usually limited to one or two so you need to be prepared at the exact time it's available. Refresh your browser at the time it is set to open, be quick because the big prizes are usually gone in a second or two.
Raffle style – These are easy, trade in your points for entries toward a prize.
Here are a few tips:
Most large prizes like trips, cruises and TV's are held through the raffles. So choose wisely which one you want to go after. Save up your points and spend several hundred thousand of your points (at the low end). Most of our trips were won via the raffles.
The Mall or trading directly takes some skill, most of our event tickets are obtained through this method. It doesn't take a lot of points to get, but it does require you to refresh your browser at the right time, click on "1", hit "enter" then "yes" or "enter" again. It takes a little practice, but its the method most people can win if they recently registered and have low points.
Claiming your prize
The radio station website will send you confirmation email once you win or successfully traded your points for a prize. In some cases the prize may be mailed to you but most of the time you'll need to pick it up at the radio station. This is good, because it means that only local people are registered. Thus lowering the number of active members and increasing your odds of winning.
Plus in some cases, which happened to us, if someone cannot claim a prize they may reward it to someone else. This is how we won our first Las Vegas trip.
Clear Channel has radio stations throughout the U.S., so find the station in your area and see if they have a website reward program visit this page. Know that not all radio stations have a reward program so look around for the nearest one in your area.
| | |
| --- | --- |
| That's my wife in the back at Universal Studios – we got free annual passes. | At the LA and OC County Fair's, using our free tickets. |
Finally, like anything in life it takes a little practice. But after a few tries it becomes easier and fun. Note that I'm not getting compensated by any radio station to share my experience and tips. In fact my wife isn't too happy that I am sharing this information, since eventually it will increase our competition. But here at OC Great Deals I believe in sharing the best deals in Orange County or anywhere I find it.
Be sure to follow us on Facebook, Twitter or by Email. If you'd like to see more pictures of our travels, feel free to visit our two picture sites: SoCal Daily Photo and Coolest Travel Pictures.