Military Appreciation Night at Chick-fil-A at SoCal Locations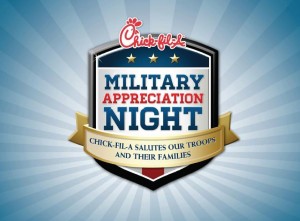 UPDATE: All 42 Chick-fil-A's restaurants in the Southern California area will be participating in the Military Appreciation Night this Wednesday. See note below.
This Wednesday Night, May 23, 2012 from 4:00-7:00pm the local Chick-fil-A in North Orange, plus all the rest of the Chick-fil-A's in Southern California will have Military Appreciation Night.  That means if you are an active Military or have honorably served just present your proof of service and they will feed you (plus your spouse & children) for FREE! (see details below)
I received an email alert this morning from the Restaurant Marketing Director of the Chick-fil-A of Orange (Tustin and Lincoln Ave) with this offer.
NOTE: We just received an additional email that this offer is available at all Chick-fil-A's in the Southern California area. Nice!
Here is a portion of the email I received:
"Military Appreciation Night is presented by Navy Federal Credit Union. The free Chick-fil-A offer is valid with a military ID or proof of service in-restaurant. The offer includes a choice of the Original Chick-fil-A® Chicken Sandwich Meal, Chick-fil-A® Spicy Chicken Sandwich Meal or Chick-fil-A® Nuggets Kid's Meal (four-count) and a beverage.
This is the second year all Southern California Chick-fil-A Restaurants have hosted a Military Appreciation Night. In 2011, 15,033 meals were provided to military service-members, veterans and their families."
WHERE: All Participating Southern California Chick-fil-A Restaurants
Visit www.Chick-fil-A.com/Locations to find a Chick-fil-A restaurant near you
Date: Wednesday May 23, 2012
Time: 4 pm to 7 pm
Personally I love Chick-fil-A. The food is always fresh, people are friendly and it's a nice change from the other fast food locations in my area.