2012 Annual Duck-A-Thon Festival in Huntington Beach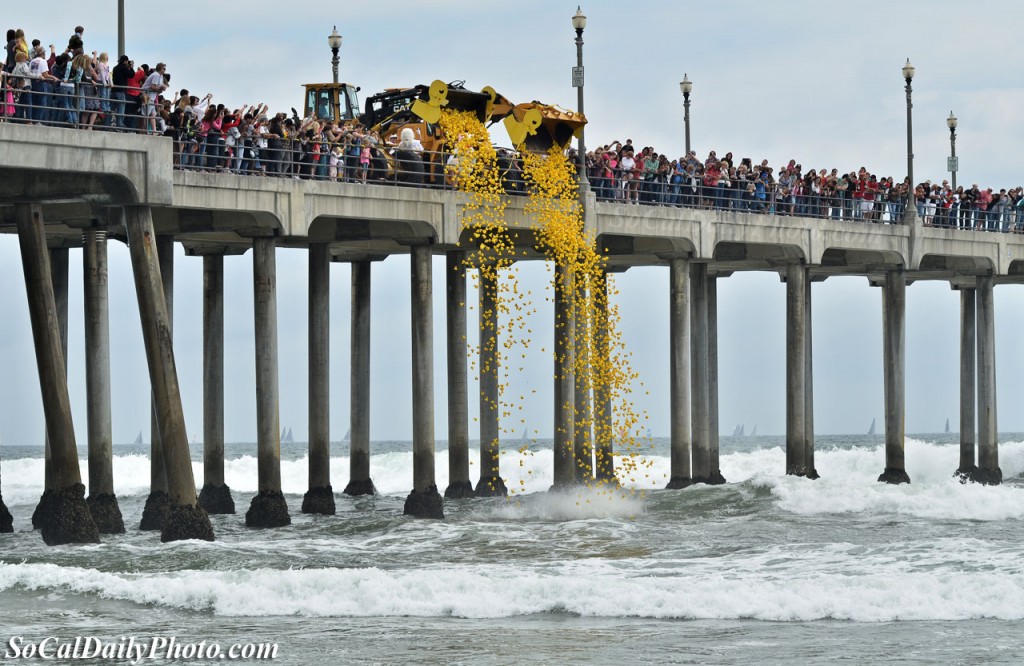 UPDATE: Here is a photo of this year's Duck-A-Thon dumping of the ducks over the pier.
The 20th Annual Duck-a-Thon Festival in Huntington Beach takes place May 18-20, 2012. If you've never attended or seen it, you're missing out on a unique fundraiser.
A three day festival that starts on Friday May 18 with a wine tasting event and continues with two spectacular events on Saturday and Sunday. On Saturday over 20,000 rubber duckies are dropped over the side of the Huntington Beach Pier!
Why you ask does this happen? It's a fundraiser for AltaMed's Huntington Beach Community Clinic which helps thousands of uninsured and underserved patients in the community.
You can participate in the fun by purchasing a special yellow rubber duck from them either that weekend or online. Then on that Saturday May 19, 2012 at 3pm, it will be dropped over the side of the pier with thousands of other rubber ducks. If your duck is one of the first 60 to float on shore, you win a prize! Pretty cool huh?
Then the following day on Sunday, they do it again but this time it's for corporate sponsors only. If you want to see the bigger event with the most ducks it's on Saturday.
My wife and I attended last year and purchased a little duck, it was lots of fun watching the event. You can see a picture of last year's Duck-a-Thon drop at the end of the page below.
Note that the Huntington Beach Pier event (dropping of the ducks and visiting the vendor booths) is free for spectators so even though you don't purchase a duck it's still fun to watch. And for those wondering if the ducks pollute the ocean, nope all the ducks are accounted for, as they float and are retrieved by many volunteers of the event.
2012 Duck-a-Thon Schedule
Friday, May 18th, 2012
Wine Tasting
6:00 – 8:00pm
$45 per person advance / $55 door
$55 VIP tickets advance / $65 door
Saturday, May 19th, 2012
The Duck Festival
10:00am – 6:00pm
The Main Event – Free to spectators
3:00pm – This is when they drop thousands of little rubber duckies from the HB Pier.
Sunday, May 20th, 2012
The Duck Festival
10:00am – 5:00pm
Corporate Duck Race – Free to spectators
1:00pm – This is when they toss larger rubber duckies that were sponsored by local businesses.
Get more information about the event or to purchase a rubber duck to to: Duckathon.org
You can see more picture we took from last year's event below:

Photos taken for
SoCalDailyPhoto.com