Irish Spring Earth Day Fest at the OC Market Place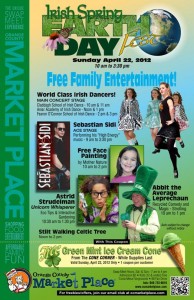 This Sunday April 22, 2012 the Orange County Market Place is having a special Irish Spring Earth Day Fest.
Throughout the day they'll have music and other entertainment free for the whole family (Free admission coupon here).
Expect to see world class Irish dancers on the Main Concert Stage. Dancers from these schools will be performing:
Claddagh School of Irish Dance
Aniar Academy of Irish Dance
Fearon O'Connor School of Irish Dance
Plus more entertainment including free face painting for the kids and free green mint ice cream cones from the Cone Corner, print flyer on right for coupon.
I'm not sure if they decided to have this event due to the rainy weekend during the St. Patrick's day weekend earlier this year, but it's always fun to see the Irish dancers at the Market Place. I recall seeing the Aniar Academy dancers last year at the Market Place.
Finally, there will also be special booths and recycling activities pertaining to Earth Day. You can find out more about it here.
Event info:
Date: Sunday April 22, 2012
Time: 10 am to 3:30 pm
Location: Orange County Market Place – See map