Orange Plaza Car Show 2012 – 18th Annual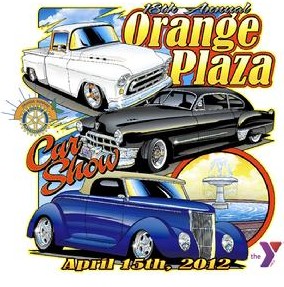 The 2012 Orange Plaza car show is just around the corner, it takes place Sunday April 15, 2012. It's the 18th year of this very popular car show event that literally shuts down the Orange Plaza (Orange Circle).
I paid a visit at last year's event and it seemed like there were hundred cars , featuring Street Rods, Custom and Classic vehicles. You can see some of the images from last year at the bottom of this article.
This is a great family event, especially for the kids. You'll get to see some very old but cool cars. Not only are the cars displayed around the Plaza but also along one block on each direction of Chapman and Glassell.
Each year the Orange Plaza Car expects about 15,000 spectators, so it's a big event. Also the money raised helps fund the local Orange YMCA, so it's a win win for everyone.
And of course admission for spectators is FREE!
Event info:
18th Annual Orange Plaza Car Show info
Hosted by: Orange Sunrise Rotary.
Benefiting the YMCA of Orange
More info about event here: Orange Sunrise Rotary
Place: Orange Plaza (Orange Circle) See map.
Date: Sunday April 15, 2012
Time: 8:00 a.m. – 3:00 p.m.
Photos from last year's event can be seen below.

Photos provided by SoCalDailyPhoto