Free 2012 Toyota Grand Prix of Long Beach Tickets with purchase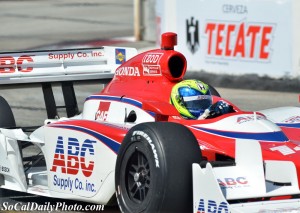 *UPDATE: Here is the full Free Friday Toyota Grand Prix Ticket Admission 2013 offer. The offer below is still good, but if you want to free ticket offer it's at the link above. 
TamiyaUSA is now offering Free Friday April 13 admission tickets to the 2012 Toytoa Grand Prix of  Long Beach (Long Beach Grand Prix). This year however, the Free Friday tickets are available when you make a purchase of $10 or more on their website.
Unlike the previous year when the free Friday admission voucher was available to all by only registering, according to Tamiya USA's Facebook post, the LBGP rules only allowed them to give the free tickets with a purchase.
So is it still a good deal? Well, the general admission for Friday April 13, 2012 is $26. With a purchase of at least $10-12 from the TamiyaUSA website, after shipping and taxes, the total is around $18 or so. That is still less than the price of general admission, plus you get a Tamiya product.
I'd say it's still a good deal.
If you've never gone to the Toyota Grand Prix of Long Beach, it's really fun. You have fast cars, beautiful Long Beach views, lots to eat and so many exhibits to see.
My wife and I go each year and we love it. The Grand Prix goes on for three days, this year it takes place Friday, April 13 – Sunday April 15, 2012.
The free ticket that TamiyaUSA is offering is for Friday only, which has the qualifying races. Plus they have a Lifestyle Expo, which is pretty cool, especially if you have kids.
The gates open at 7 a.m. that Friday and runs up to 7 p.m.
Friday's Long Beach Grand Prix schedule:
7 a.m. – Gates open
7:15 a.m. – Tequila Patron American Le Mans Series (ALMS) practice
9:35 a.m. – Team Drifting Challenge
10 a.m. – IZOD IndyCar Series Practice
11:15 a.m. – Toyota Pro/Celebrity Race Practice
12 p.m. – Firestone Indy Lights (FIL) Practice
2:15 p.m. – IndyCar Practice
3:30 p.m. – Toyota Pro/Celebrity Qualifying
4 p.m. – IZOD IndyCar Series Autograph Session (IndyCar Paddock – FREE to all race ticket holders)
4:15 p.m. – Pirelli World Challenge (PWC) Practice
5 p.m. – ALMS Qualifying
6:30 p.m. – Tecate Light Fiesta Friday Concert
To see a full schedule of the weekend long Long Beach Grand Prix, visit their site.
The 38th Annual Toyota Grand Prix of Long Beach dates: Friday April 13-15, 2012
To get the free Friday ticket (must purchase at least $10 worth of products from TamiyaUSA website) visit the TamiyaUSA free Friday ticket offer page.
Here are a few tips if you plan to go:
Take earplugs, it can get very loud, especially for the younger kids.
Take a bleacher seat cushion, makes those hard metal bleachers more comfortable.
Prepare to walk a lot, it's a large venue.
Take sunblock, you will get sunburned if you don't.
Shop (drive) around for parking, prices do vary.
Below are a few photos and video from last year. Have fun!