Dana Point Festival of Whales starts this weekend!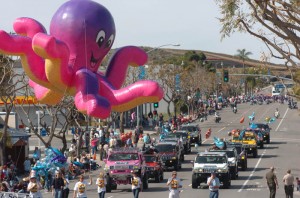 The 41st Annual Dana Point Festival of Whales starts this Saturday March 3-4 and continues next weekend on March 10-11, 2012.
Each year the the California Gray Whales migrate from Alaska to Mexico, that's a 5000 trip! The festival celebrates these sea creates by hosting a two week family festival. From whale watching excursions to art exhibits and street fairs.
Plus the festival makes it all easy to get around with a free shuttle. Oh yeah, did I mention there was a parade? Yup, its on Saturday March 3rd, 2012.
The four day event (over two weekends) is full of free family events. From free concerts, classic car shows to a free outdoor movie of "A Dolphin Tale". With beautiful weather this weekend, it's sure to be a success.
Festival of Whales Details:
See the full list (too many to mention here) of events HERE.
Festival of Whales Parade: Saturday March 3rd, 2012 at 10am. ( PCH & Selva Road)
Dates: March 3-4 and March 10-11, 2012
Free shuttle service from 10 am to 4:30 pm
Festival of Whales Excursion options (includes discounts)
Here is a short video about the Dana Point Festival of Whales: