2012 Kite Party in Huntington Beach is almost here!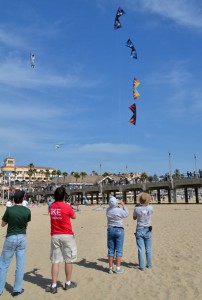 It's time again for one of the coolest free events in Orange County, the 2012 Huntington Beach Kite Party!
The event is organized by the Kite Connection, which the kite store located right on the pier. This year it takes place Saturday and Sunday March 10-11, 2012 from 11 a.m. to dusk.
I was there last year on the Saturday and had so much fun. The event is free and anyone can fly their kites (outside of the main flying field).
But the fun part takes place inside the main flying field where experienced kite party participants show off their skills throughout the weekend to thousands of spectators.
I've been to other kite "festivals", but this one is different, probably why they call it a "party" instead of a festival.
My wife and I make a day out of it. We take a couple of beach chairs, watch the performances, then walk over to main street for lunch or an early dinner.
Huntington Beach Kite Party 2012
– For more information about this event visit the
Kite Party
website.
Here is a short video from last year's HB Kite Party: