AMC Movie Discount Tickets for under $6 at Costco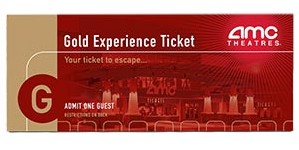 Several Orange County Costco locations once again have the AMC Gold Experience 2-pack movie tickets on sale for only $11.99, that's less than $6 per ticket! Nice!
A second option is to buy them online, Costco has them in packs of 10 tickets for $62.99, which is still a great deal.
The AMC movie discount ticket offer is good from 1/27/12 through 1/29/12. You can use them anytime since they don't expire. FYI, the "offer date" refers to when you buy them not when you use them.
With the average movie ticket going for about $12, this offer is pretty good. Last summer when Costco offered the discount AMC movie tickets my wife and I stocked and have been waiting for them to go on sale again. Nice to see it happened early in the year!
You can find a Costco in Orange County or near you here.