Where To Cut & Buy Your Own Christmas Tree in Orange County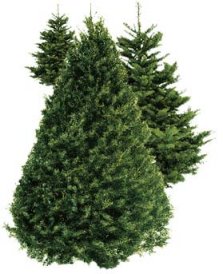 Want to know where you can cut and buy your own Christmas tree in Orange County?
Chances are there is a lot near you in OC, and no I'm not talking about those fly by night tree lots you see selling pre-cut tree's either. I'm talking about a real Christmas Tree Farm.
There are a couple of Christmas Tree farmers in Orange county offering fresh live trees (still planted and uncut). You can walk the farm, choose out a tree that calls out to you "hey pick me, pick me", well maybe not literally like that, but you get the picture.
Once you choose the tree you like, you have the option of cutting it yourself or they can do it for you. Pretty neat huh?
As for the price, well it will cost you a little more than a pre-cut tree from a regular tree lot or store, but sometimes a good deal is more than just the price, it's the experience.
If this is how you'd like to pick your Christmas Tree this year, then here are some places you can cut and buy your own Christmas Tree in Orange County:
PELTZER PINES – Use this Coupon for $6 off any tree at Peltzer Pines.
Christmas Tree Farms:
Peltzer Pines – Corner of Irvine Center Dr and Bake Parkway
9000 Irvine Center Drive
Irvine, CA 92618
949-727-4699
Peltzer Pines – Silverado
7000 Santiago Canyon Rd.
Corner of Santiago Cyn. Road and Silverado Cyn. Road
Silverado, CA 92676
714-649-9251
Peltzer Pines – Brea/Yorba Linda
3400 Rose Drive
Brea, CA 92823
714-649-9251
_________________________________________________
Richfield Pines – The Christmas Tree Farm
5392 Richfield Rd.
Yorba Linda, CA 92886
714-253-7581