Hot Wheels Christmas Holiday Gift Sets for 2011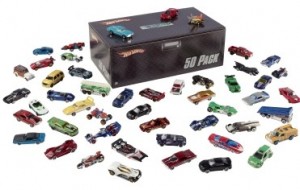 I'm a big collector of Hot Wheels and diecast cars in general. So you know I was going to write about the various Hot Wheels Christmas Holiday gift sets for 2011.
During the holiday season, one of the best gifts you can give to a young child is a Christmas holiday gift set from Mattel.
Personally I own several thousand Hot Wheels, Matchbox and other type of diecast cars, trucks and planes. How did I get into collecting them? It all started with a few Hot Wheels I received as a gift for Christmas!
2011 Hot Wheels Christmas Gift Sets
– Hot Wheels 50-Car Pack – $39.99 + free shipping with Use code HOLIDAY20.
– Hot Wheels 20-Car Gift Pack – $21.99 from Amazon.
– Hot Wheels Garage Best of Vehicles, 30-Pack – $99.97, this one is more for the advanced collector, but likes "special edition" sets. The number of cars are less, but according to the description, they are "better" cars.
– Hot Wheels 20 Pack w/Collector Case – $103, includes 20 cars, but this one has a display case. Sort of neat for kids to display the cars in their room.
Here are a few resources for Hot Wheels/Diecast car collectors.
– Mattel Outlets in Southern California, Texas and Wisconsin