Top 2011 Cyber Monday Deals You Don't Want To Miss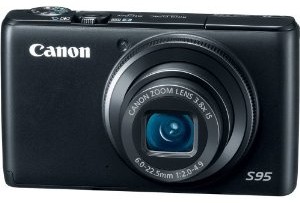 Here are the Top 2011 Cyber Monday Deals you don't want to miss. Like last year, Amazon leads the way with the most discounted items.
Amazon Cyber Monday 2011 deals
Amazon, the largest online store will be having the best deals but don't wait, the inventory will sell out fast. Like the Canon camera on the right, discounted more than $100, all camera's and electronics will sell out quickly.
Here are the links to a few top cyber Monday pages on Amazon. Because sale items are only up for a few minutes before they sell out, it's not possible to list individual items.
– Top 2011 Cyber Monday deals at Amazon  – On this page Amazon will post deals that only last a few minutes or until it's inventory runs out. Check it often throughout the day and act quickly, once the deal is over, that's it.
– Gold Box Deals on Cyber Monday at Amazon – Don't overlook this page, although not the official cyber Monday deals page on Amazon, they will be running many of their discounted items here.
– Toys & Games Cyber Monday Amazon deals – This is where Amazon lists it's discounted toys and anything related to non electronic games.
– Cyber Monday Video Game deals at Amazon – Check this page for the video games, here the inventory generally lasts much longer than the Gold Box or Cyber Monday page deals.
– Cyber Monday TV, Camera's & Electronic deals at Amazon – This is where I primary purchase my TV's and other electronics such as camera's. I'm able to get the same discounts on TV's that locally were being offered during black Friday.
– Computer Cyber Monday Deals – All computer makes and model cyber deals can be found here.
Fry's Electronics Cyber Monday 2011 deals
Here are all of Fry's Electronics Cyber Monday deals. Expect the site to be slow at times, especially at midnight.
Other Cyber Monday deals you might want to look into include:
Sears.com     –     JCPenny.com     –     Macys.com     –     BestBuy.com
Don't forget to act quickly when you see a low price on Amazon, Best Buy or Fry's. The online traffic is so large on Cyber Monday that those who hesitate will lose out.