Start Your Own Frugal Blog on Black Friday and Save 50%!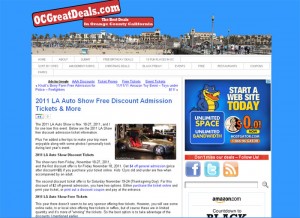 Frugal and coupon blogging can be fun and profitable. I'll show you how to start your own frugal coupon blog in a few steps and save 50% on the hosting cost too.
Some may think it's counterproductive to teach others how to create a blog just like my OCGreatDeals.com site. I believe in sharing and providing a resource to good deals, but also to share free information about how I do it successfully.
Steps to start a coupon or frugal blog.
Sign up with a hosting company, I use Hostgator for OCGreatDeals. Get the "Baby Plan" hosting option. If you sign up on Black Friday November 25, 2011 you get 50% off the hosting fees which means it costs less than $5/month. If you do it any other time, you can still get up to 20% off and pay less than $9.98/month.
Register or use your own domain when you setup. It does not matter which domain you use, you can always add additional domains to your account and have multiple websites with this account.
Once you get your log-in information, go to www.(yourdomainname).com/cpanel this will take you to your cpanel admin page.
On the left of the page you'll see a big white W for "WordPress", click on it. You'll be using wordpress as your blogging platform. This is what I use here on OCGreatDeals. Here is a photo of the cPanel with the "W" on the lower left.
Once you click the "W" it will take you to the "Quick Install" page, hit "continue".
It will ask you which domain you want to add wordpress to, choose your domain from the drop down menu. It will also ask you for an admin email address and name of blog. Once you click OK, installation is complete and you will get your password emailed to you.
Log on to your email and retrieve the password, you can change the password to something else later. The default user name will be "admin", this too can be changed later.
Now go to http://(yourdomainname).com/wp-admin here use your password and username to log in.
Now you're in your wordpress "dashboard". This is where you control, add, and do everything to your new blog site!
Go to "Appearance" on your left side and click on "theme", this is where you can change or add a new theme. Themes are the design and layout of a blog site. You can change or add new themes later.
Lets write your first post, go to Posts ->Add New. Here you add the Title and the text for your first article.
Finally hit "publish" on the right upper side of the screen. And that's it, your site is up and running.
Hope this was helpful. I do want to say that this is the basic way to start any blog site, there are of course other things involved that one must do, such as choosing a "theme" layout, the design and structure of the site as well as the SEO portion of a blog.

These are all things one learns as you go through the process of growing developing your site. If you feel it was helpful, then leave me a comment. If there is enough interest I may expand and add additional information about how I created my site and tools I used that enabled OCGreatDeals to be the #1 independent deals site in Orange County.
Also remember, that the 50% off on Hostgator is only available on Black Friday, so even if you don't start your blog on this day, at least sign up for it now. You can start on your blog any other day. It's all about saving money, even when you start your own site!
Have a great day!