Black Friday Deals in Orange County 2011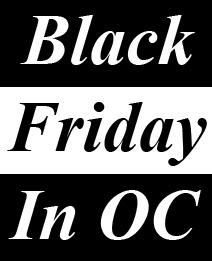 I've compiled a list of places offering Black Friday deals in Orange County along with links to the best after Thanksgiving sales in each location.
Lets be honest, the number of Black Friday deals in OC are so numerous it would be impossible to list them all in one article.
Heading out for black friday sales in Orange County is not for everyone. It takes planning and guts to tackle on the crowds.
By now I'm sure you've downloaded all the black friday ads, if not be sure to get a copy of the newspaper early Thanksgiving morning or Wednesday as all the ads will be out by then.
But first, lets start with a few not so obvious tips:
Be first or forget about it! Know that once you commit to one of the larger department stores, unless you're one of the first 10 to 30 people in line (which means you'll need to camp out on Thanksgiving), you will not get any of the doorbuster deals. And honestly, those are really the only good deals. So play your cards right, be first or forget about it!
Credit will cut your savings. Keep in mind if you pay buy credit card and carry a balance, the item after paying for the interest and principle may eat up any savings you got by purchasing on Black Friday. Meaning you spent the night in a tent on a cold street on Thanksgiving night for nothing…not good.
Malls and Outlets. Don't put all your eggs in one basket. Instead of going only to one or two big stores, shop at a mall or outlet. You'll have a better chance of getting some of the better deals.
2011 Black Friday Deals in Orange County
Here is a list of malls and shopping centers  in Orange County that will be having special after Thanksgiving Black Friday deals. When available, I've added the time each place will open on Friday November 25, 2011 for Black Friday. Also, some of the links will take you directly to where each mall lists the deals for individual stores.
Brea
Brea Mall – Doors will open at 4am, this is a very popular mall for Black Friday deals, so expect to get there early, otherwise see tip #1 above.
Costa Mesa
South Coast Plaza – Doors will open at 8am on Black Friday. Nice to see some people appreciate family time. 🙂
Irvine
Irvine Spectrum Center – This will be a very busy place on Black Friday, some stores will start opening at 4am while others will wait until 8am. Click on the link to see a detailed list of all the stores, their hours and specials.
Laguna Hills
Orange
The Outlets at Orange – Formally The Block at Orange, this can be a one-stop shop for all your Black Friday deals. Link will take you to a list of stores offering special deals.
The Village at Orange – Doors will open at 12 midnight on November 25. Lots of shops including Walmart, Sears, JC Penny's and more.
Santa Ana
Main Place – Doors will open at 6am on Black Friday.
Westminster
Westminster Mall – Doors will open at 4am. You can see and print some of their Black Friday deals here.
Other Great Black Friday Deals
Online Black Friday Deals
Amazon's Gold Box – If you haven't looked at Amazon's current gold box specials, lets just say you're missing out on some of the best deals yet. I've seen get marked down as much as 75% and on good stuff too. I'll be doing a separate article on internet deals, but for now I'd say this is the best one yet.
LuckyBrand.com – Exclusive Lucky Brand Online 2-Day Black Friday sale. Get 30% off entire Lucky Brand site November 25 through November 26, 2011 and free ground shipping.
Finally the
Best Black Friday Deal in OC
is…a free ride on the
Great Park Balloon
with your family. Yup, the park will be open on Friday. Sometimes the best things in life are truly free!