11/11/11 Amazon Toy Event – Toys under $11!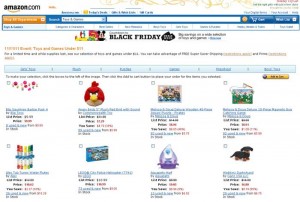 Looks like Amazon is having a toy event today for 11/11/11. Toys on this page are all under $11, that's a great deal!
Amazon is one of the few online stores I purchase items from. Mainly because its so easy and shipping is very fast. I normally get my items within 2 days of ordering it. Plus they have a very good return policy for most things.
Also, note that you can get free 2-day shipping with Amazon Prime or Super Saver Shipping. Amazon Prime also gives you access to their online library of movies so you can stream them down and watch at home. It's basically the same thing as Netflix, but it costs less per year.
My Amazon Tip
Get free 2-day shipping and online streaming movies for one month. Sign up for the Amazon Prime trail membership here, its located in the middle right of the page. They let you try it out for one month, order whatever you want, get free 2 day shipping on all items purchased during that month, watch any movies during that month, then just before the trial period is over simply cancel your membership, which again is done online!