Buy discounted AMC Movie tickets for as low as $6 per ticket!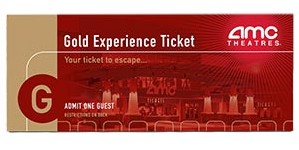 Buy discounted AMC movie tickets for as low as $6! Costco has two special deals this weekend (August 26-28, 2011) on AMC Gold Experience movie tickets, these never expire and don't have any restrictions.
At select Costco locations you can buy a set (2 tickets) for only $11.99, that comes down to only $5.99 each! My wife and I always purchase our movie tickets in advance at Costco but they normally cost about $16 for two tickets, so this special offer is $4 less than the already low price they normally sell them.
The second deal they have running right now is available online only and its for 10 AMC Gold Experience for $62.99, that's only $6.30 each ticket! The tickets much be purchased in the set of 10 in order to get the deal.
See the Costco website for complete details. Price offer is valid 8/26/11 to 8/28/11.
Finally, here is an AMC 50% off coupon for a Large Drink and Popcorn combo, this coupon is good for August 26-September 8, 2011.
Here are the Costco locations in Orange County.