Your two cents can earn the OC Childrens Book Festival $10!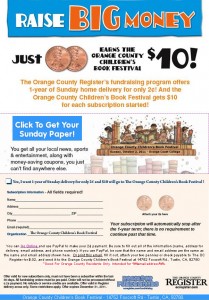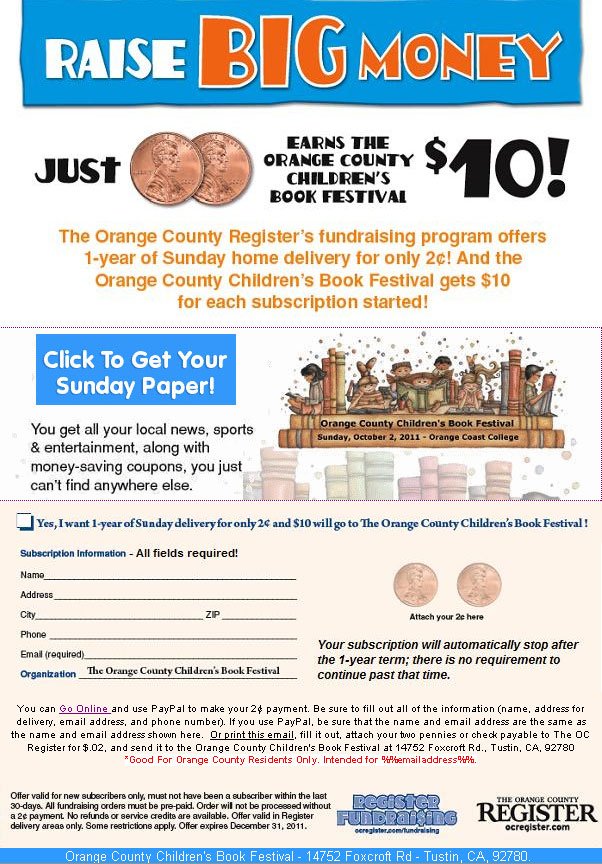 Subscribe to the OC Register Sunday edition for only 2 (two) cents and raise money for the Orange County Children's Book Festival. Here's how it works:
The OC Register is offering 1-year of Sunday home delivery for only 2¢! And the Orange County Children's Book Festival gets $10 for each subscription started! See some of the restrictions below:
"Offer is valid for new subscribers only, must not have been a subscriber within the last 30-days. All fundraising orders must be pre-paid. Order will not be processed without a 2¢ payment. No refunds or service credits are available. Offer valid in Register delivery areas only. Some restrictions apply. Offer expires December 31, 2011."
For complete details about the offer and to sign up online, which by the way you can pay your 2 cents via paypal, click on the flyer above or visit the OCCBF OC Register Deal page.
This sounds like a great OC deal, I'm not currently a Register subscriber and I live in Orange County so this offer is too good to miss. I'll be signing up today! Plus it's nice to know it will help the OCCBF, which is a non-profit organization that promotes children's literacy. By the way the offer expires 12/31/11.