US Open of Surfing 2011 at Huntington Beach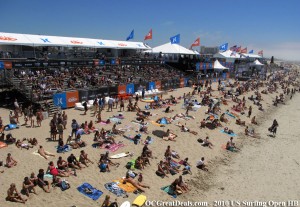 The 2011 US Open of Surfing is back this summer in Huntington Beach. It runs July 30 – August 7, however the festival venue opens several days earlier on Thursday July 28th.
Each year over 500,000 people converge on the south side of the Huntington Beach pier for more than just a surfing competition, the US Open of Surfing is a week long festival of music, art and sports. I'm sure you've noticed all the construction taking place on the beach, if you haven't simply take a look at the bottom Beach Cam on the HB site.
If you're wondering why I'm writing about it here on OC Great Deals, well every event at the 2011 US Open of Surfing is FREE to spectators! That's right, in addition to watching the week-long surfing competition, you can view the skate and BMX shows and of course the various music concerts scheduled.
I've added a few photos on this page from last year's event, it should give you an idea of what to expect. If you enjoy the beach, this event is for you.
Our partners at OCSurfpix.com will be there taking surfing photos of the US Open, I'll share them here when they are available.
Expect large crowds on the weekends, so you might want to arrive early, especially for the weekend events.
Paid parking lots are available on the beach or metered on both sides of Pacific Coast Hwy. You can also find metered parking several blocks inland, but again I suggest arriving early or better yet, ride your bike to the beach!
Save gas and parking by riding your bike to the US Surfing Open event and use the free bike valet on The Strand (PCH/5th Street).
Use this Schedule of Events to plan your visit.
Here are the details:
When: Saturday July 30 – Sunday August 7
(venue is open from Thursday July 28 – Sunday August 7th)
Location:
South Side of the Huntington Beach Pier
Main Street & Pacific Coast Hwy
Huntington Beach, Ca 92648
– Map
For more information visit the US Open of Surfing website.