Los Angeles Navy Week 2011 Free Ship Tour Schedule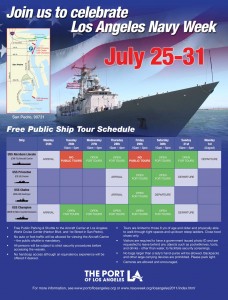 Los Angeles Navy Week 2011 is taking place this week, July 25-31 at the port of LA in San Pedro.
One of the highlights during Navy Week is the ability to take free ship tours. There are a total of four ships available for the public to visit.
These are the four ships:
1. USS Abraham Lincoln (CVN 72) Aircraft Carrier
2. USS Princeton (CG 59) Cruiser
3. USS Chafee (DDG 90) Destroyer
4. USS Champion (MCM 4) Mine Countermeasures
There is free Public Parking & Shuttle to the Aircraft Carrier at Los Angeles World Cruise Center (Harbor Blvd. and 1st Street in San Pedro).
– You must take the shuttle from the free parking area to the Aircraft Carrier (which is docked at a different port from the other three ships), no auto or foot traffic will be allowed, so that means the only way to see the USS Abraham Lincoln is to park at the World Cruise Center and take the shuttle.
Expect lots of security, pack light. You must be 8 yrs of age and older to take the tours. There's lots of walking. They state that only "close-toed" shoes will be allowed, so I guess no sandals. Visitors must also have a government issued photo ID.
Cameras are allowed and encouraged, but leave backpacks at home. See the the flyer above for full details. Or download the pdf file of the flyer.
The World Cruise Center parking is located at:
600 N Harbor Blvd
San Pedro, CA 90731
Look for the signs stating free parking area for Navy Week tours. See flyer above for more info. I would suggest printing out a copy of it and taking it with you. Print the pdf or jpg version.
For more information about Los Angeles Navy Week 2011 visit the Navy Week website.

See map for directions: