2011 Cypress Community Festival – A Fun Day!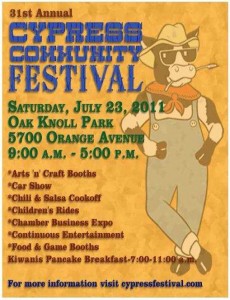 The 31st Annual Cypress Community Festival takes place Saturday July 23, 2011 at Oak Knoll Park.
The event starts with an early morning 5K/10K run, then a pancake breakfast. The festival continues with a car show, chili cook-off, family games, food booths, the Chamber of Commerce business expo, children's rides, arts and crafts booths, plus four stages with entertainment.
According to the festival website, its "the largest one day festival in Orange County and draws up to 30,000 visitors each year" Sounds like a party to me! Oh, one more thing…admission is FREE!
Here are a few useful links:
Event details:
Date: Saturday July 23, 2011
Location: Oak Knoll Park, Cypress, Ca.
Time: 9am-5pm (note that certain events like the pancake breakfast start earlier).
Price: Free admission