Get a free 7-11 Slurpee Monday July 11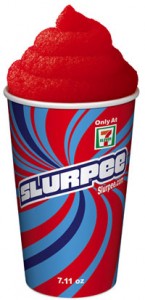 To celebrate 7-11's birthday, get a FREE 7.11 oz Slurpee drink this Monday July 11, 2011 at all participating 7-11 stores!
Offer is available from Monday, July 11 at 12:00am – July 12 at 12:00am.
I don't know about you, but I know I'm getting one! You can also visit the free Slurpee Facebook event page for more information. Don't worry, you don't need to RSVP or even have a Facebook account to get the freebie.
I would list the 7-11's in Orange County, but that would be silly since there are so many of them. Instead, you can find a 7-11 near you here.
Also, remember that this offer is only available at participating stores, so be sure to ask the clerk before filling up your cup!