4th of July firework shows in Los Angeles & Orange County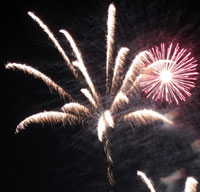 With such great weather, this year's 4th of July events in Southern California should attract record crowds. Below is a list of free firework shows in Orange and the Los Angeles Counties.
Each listing also includes a link to more detailed information about any parades or events held prior to the firework shows. Please note that some cities only provide a flyer with information as a pdf file.
Have a fun and safe 4th of July weekend!
Orange County:
– Anaheim Hills – Peralta Park/Canyon High School – Parade 4pm, Fireworks 9pm
– Dana Point – Doheny State Beach – Fireworks Show  –  9pm
– Fullerton – Fullerton High School Stadium – Fireworks Show & Festival – 5 to 9:30pm
– Huntington Beach – Pacific Coast Hwy & Main St. – 107th Annual 4th Of July Parade – 10am.  Fireworks – 9pm
– La Habra – La Habra High School Stadium – 4th Of July Celebration –Fireworks – 9pm
– Tustin – Tustin High School Stadium – Fireworks at 9pm
Los Angeles area:
– Alhambra – Almansor Park – Happy 4th Of July Celebration – Fireworks at 9pm
– Chino Hills – Big League Dreams Sports Park – 19th Annual Old Fashioned 4th Of July Picnic – 11am to 3pm
– Diamond Bar – Diamond Bar High School – 5 to 9:30pm  Fireworks at 9pm
– Huntington Park – Salt Lake Park – 4th Of July Celebration – Fireworks at 9pm
– Los Angeles – Memorial Coliseum – 4th Of July Fireworks – 8:45pm
– Montebello – Grand Rea park – Fireworks at 9pm
– Monterey Park – Barnes Park –  4th of July Celebration – 3 to 10pm – Fireworks at 9pm
– San Pedro – Cabrillo Beach – 4th Of July Celebration – 12 Noon to 10pm
– Santa Fe Springs – Los Nietos Park – FIREWORKS EXTRAVAGANZA – Fireworks – 9pm
– Stevenson Ranch & Castaic Lake –
– Studio City – CBS Studio Center – July 4th Celebration
– Valencia – Westfield Valencia Town Center – 4th Of July Fireworks Celebration – 9:15pm