Free movie popcorn at Regal Cinemas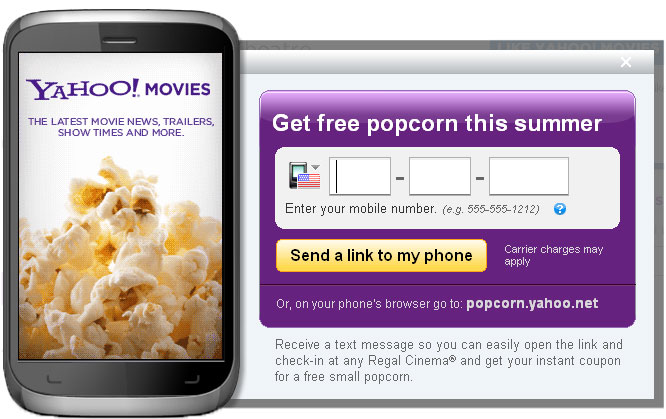 Here's a great deal for Orange County residents, actually it's available throughout the U.S….Free Movie Popcorn! Get a free movie popcorn coupon via your smart phone when you "check in" at any Regal Cinema, United Artists or Edward Theaters. Offer will expire at end of summer time, see details below.
Everyone knows how expensive movie popcorn costs, so this is definitely a great deal! Follow the instructions below to setup your phone to get the deal.
Visit any Regal, United Artists, or Edwards Theatre.
Go to popcorn.yahoo.net on your cell phone (link).
Check in to get an instant coupon for FREE popcorn.
If you want to save some time at the theatre, text "popcorn" to 35350 before you go, and a link to the mobile site will be sent to your phone. You can also "Like" them on Facebook ahead of time and skip that step at the theatre.
**Offer expires on August 31, 2011 or when one million coupons have been redeemed, whichever comes first. See the faq page for full details of this offer.
Find a Regal, UA or Edwards theater near you here.
For more Orange County deals, especially the Great ones. 😉 Follow us on Facebook, Twitter or by Email.